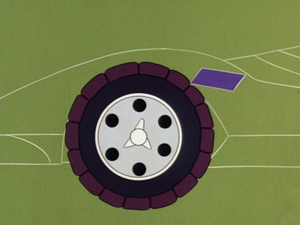 Button B is a button on the Mach 5, it toggles special grip tires for traction over rough terrain (firm, icy, or unsteady ground, ocean floor, vertical mountainsides etc.). At the same time, 5,000 horsepower is distributed equally to each wheel by auxiliary engines.
Ad blocker interference detected!
Wikia is a free-to-use site that makes money from advertising. We have a modified experience for viewers using ad blockers

Wikia is not accessible if you've made further modifications. Remove the custom ad blocker rule(s) and the page will load as expected.