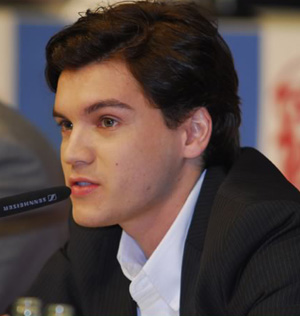 Emile Hirsch plays Speed Racer in the 2008 Speed Racer movie.
He is known to audiences from films such as The Girl Next Door and Into the Wild.
Significant roles
Taking Woodstock (2009) - ?
Milk (2008) - Cleve Jones
Speed Racer (2008) - Speed Racer
Into the Wild (2007) - Christopher McCandless
The Air I Breathe (2007) - Tony
Alpha Dog (2006) - Johnny Truelove
Lords of Dogtown (2005) - Jay Adams
Imaginary Heroes (2004) - Tim Travis
The Girl Next Door (2004) - Matthew Kidman
The Mudge Boy (2003) - Duncan Mudge
The Emperor's Club (2002) - Sedgewick Bell
The Dangerous Lives of Altar Boys (2002) - Francis Doyle
Wild Iris (2001) (TV) - Lonnie Bravard
Quotes
Please add some quotes from this performer about their work on Speed Racer!
Trivia
He will reprise his role of Speed in the video game based on the film.
External links
Ad blocker interference detected!
Wikia is a free-to-use site that makes money from advertising. We have a modified experience for viewers using ad blockers

Wikia is not accessible if you've made further modifications. Remove the custom ad blocker rule(s) and the page will load as expected.