The Hydrophiidae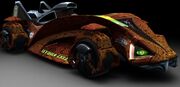 The Hydrophiidae is Snake Oiler's T-180. Like his rally car this WRL racer is also part of the Hydra-cell racing team. Those who watch the movie closely can see the Hydrophiidae in the opening race at Thunderhead in the Speed Racer film. Unfortunately for Snake Oiler, the car is not seen after that because the Hydrophiidae also crashes in that race. In Speed Racer The Videogame however the Hydrophiidae gets a bit more "screen time" as it is a playable car.
Trivia
"Hydrophiidae" is another word for a sea snake, a type of snake that is aquatic and inhabits tropical waters of the Pacific and Indian oceans.
Ad blocker interference detected!
Wikia is a free-to-use site that makes money from advertising. We have a modified experience for viewers using ad blockers

Wikia is not accessible if you've made further modifications. Remove the custom ad blocker rule(s) and the page will load as expected.