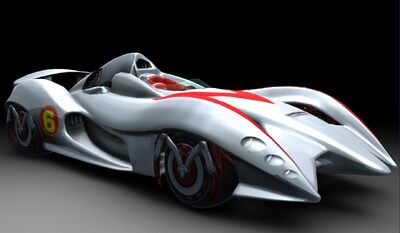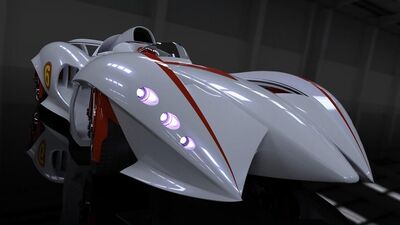 Speed Racer film
In the Speed Racer Film the Mach 6 is a state-of-the-art T-180 racing car driven by Speed Racer in the World Racing League. After the "accident" during the Fuji Helexicon race Speed, Pops, Sparky and family are left to build a new one from scratch to race in the WRL Grand Prix. The car used in the film was designed to look like an Indy car or Formula 1 racer.
Specs
This car features auto-jacks like in all T-180 racers, but it has case-hardened dampeners for extra power, which means much higher jumps. It is also powered by a single-forge Bernoulli Convergenator, which is claimed by Pops to be superior to the GRX's inter-positive transponder ("Transponder schmonder," he said, "You want real kick, you go Bernoulli.") This claim was proven when Speed ran a patch through the starter to the Convergenator, shifts the Mach 6 to fifth gear, and jump-starts it, making for an extraordinary burst of speed. The car also features a custom-designed suspension system whose components are derived from biological sources for a degree of flexibility not seen in factory-built wheels. The Mach 6's chassis is a hand-welded nitronium cage with octovalve fasteners, along with a body shell reinforced with submolecular metallitizers. 
Speed Racer: The Next Generation
No information yet
Mach Go Go Go model kit
No information yet
Ad blocker interference detected!
Wikia is a free-to-use site that makes money from advertising. We have a modified experience for viewers using ad blockers

Wikia is not accessible if you've made further modifications. Remove the custom ad blocker rule(s) and the page will load as expected.