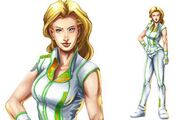 Sam "Lightning" Storm is a driver from the movie Speed Racer. She is also a playable character in Speed Racer The Videogame for the Nintendo DS and the PlayStation 2. She drives for Atomic Injectables. A street car version of her car, the Nuke Shot, is seen during the Casa Cristo race in the movie. It is seen being wiped out in the second leg by Snake Oiler's snake-a-pult. In the game, her ally is Sweet-Tooth Jangala and her rival is Scooter Dickey.
Gallery
Ad blocker interference detected!
Wikia is a free-to-use site that makes money from advertising. We have a modified experience for viewers using ad blockers

Wikia is not accessible if you've made further modifications. Remove the custom ad blocker rule(s) and the page will load as expected.