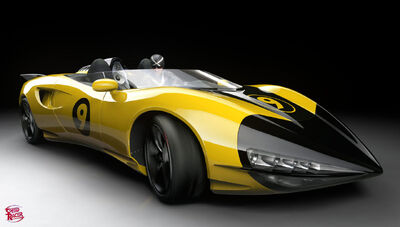 The Shooting Star is a vehicle featured throughout the Speed Racer franchise. It is driven by Racer X.
According to a limited edition "schematic drawing" poster of the car printed by Allegory Media, it was commissioned by Kapetapek Royal Industries, designed by Dr. Bent Cranium (the same man who had also designed the infamous GRX engine), and manufactured by Cranium Motor Works as the "9th Protégé Prototype", for use by Rex Racer, who is Prince Kabala's ninth apprentice at the time. The poster also identified the car's model as the "Cranium Motor Works A-RX", and that it featured oil slick units in the taillights, strobing headlights for distraction purposes, and the front is wired and ready to be augmented with a modular offensive package by Interpol.
The Shooting Star gives Speed some of his toughest racing competition. In the capable hands of Racer X, the Shooting Star can rival and sometimes even beat the the Mach 5. It is another example of the amazing car designs that The Tatsunoko Company created that still have us dreaming of being behind the wheel today.
Specifications
NOTE: Taken from limited edition schematic poster
Powerplant: Alloy Block Turbo V12
Valve Train: DOHC 6 Valve/Cylinder and Chain Drive Variable Timing
Displacement: 492ci/8062cc
More to come
Trivia
Ad blocker interference detected!
Wikia is a free-to-use site that makes money from advertising. We have a modified experience for viewers using ad blockers

Wikia is not accessible if you've made further modifications. Remove the custom ad blocker rule(s) and the page will load as expected.