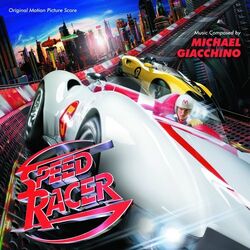 The Speed Racer soundtrack is a soundtrack album containing the music of Speed Racer, including the musical score by Michael Giacchino.
Tracklist
I Am Speed
World's Best Autopia
Thunderhead
Tragic Story of Rex Racer
Vroom and Board
World's Worst Road Rage
Racing's In Our Blood
True Heart of Racing
Casa Cristo
End of the First Leg
Taejo Turns Trixie
Bumper to Bumper, Rail to Rail
The Maltese Ice Cave
Go Speed, Go!
He Ain't Heavy
32 Hours
Grand Ol' Prix
Reboot
Let Us Drink Milk
Ad blocker interference detected!
Wikia is a free-to-use site that makes money from advertising. We have a modified experience for viewers using ad blockers

Wikia is not accessible if you've made further modifications. Remove the custom ad blocker rule(s) and the page will load as expected.