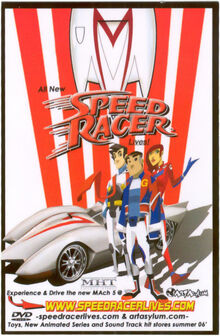 Speed Racer Lives is an American flash animated web series produced by Speed Racer Enterprises, Creative Group Animagic and Heavensport in 2006. Intended to kick start a franchise rebirth in time with the fortieth anniversary of the original series, it primarily acted as a way for then toy licensee Art Asylum to create new products based on the franchise without having to go through the expense of advertising on television.[1][2] As a followup to the first series, it was meant to appeal to both existing fans and newer ones.[3]
The three 7-minute webisodes premiered at San Diego Comic-Con between July 20-22, 2006 and were released online between September 7-19 and through a figurine DVD pack-in that same month.[4][5][6][7] Neither the series nor the toyline were successful enough to continue production.
Plot
Decades have passed since the conclusion of the original series. Speed Racer and Trixie have settled down, gotten married, and have two kids of their own: Velocity and Speed Jr. Both are as infatuated with racing as their father, and compete in events with the Mach 9 and Mach 10, respectively. But just like in their father's day, trouble lurks in the shadows and it's up to the teens, with some help from their friends and Racer X, plus mechanic Spritle, to stop them.[8]
The series ends on a cliffhanger with Cruncher Block kidnapping an elderly Pops Racer in a bid to get an engine schematic from the Racer family.[9]
TRIVIA:
On November 10th 2017, the what was presumed lost web series was uploaded to youtube.
Merchandise was planned and prototypes were made but due to the series failure, the toys were never released.
References
External Links
Gallery
Images
Videos