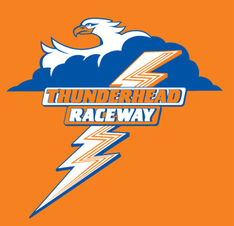 Thunderhead Raceway is a racing track featured in the Speed Racer film (and the tie-in video game).
Background
It is one of many courses sanctioned by the WRL. Located on the outskirts of Cosmopolis, it is one of the last designed by racing legend Velocity Dewitt. It is made of 100% forged steel, presenting a slippery situation for drivers, especially when they hit the track's infamous "dog bowls". While it is the oldest track in Cosmopolis, it takes a true driver to conquer its twists and turns. It also features Dreadnought Jump, which is 30 meters in length and had spelled DNF for more than a few aspiring racers.
For years, late fan-favorite Rex Racer holds the course record for the fastest lap time at 9:18.65. Before Rex left Racer Motors, he used to take his younger brother Speed to Thunderhead and letting him steer the Mach 4 while Rex worked the gas, brakes, and clutch.
It is also mentioned in the Supercharged featurette that Pitter Pat, who is sponsored by Razorback Depilatory, is frequently seen at Thunderhead, toiling for a spot in the standings.
Gallery
Ad blocker interference detected!
Wikia is a free-to-use site that makes money from advertising. We have a modified experience for viewers using ad blockers

Wikia is not accessible if you've made further modifications. Remove the custom ad blocker rule(s) and the page will load as expected.